Our products make people smile. We love that. Whether it's someone enjoying patio string lights during the summer in their backyard or millions of people enjoying a seven story Christmas tree during the holidays, we help people decorate, light things up and have fun. That's special.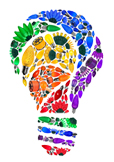 Grouponi is an Atlanta-based manufacturer, importer and wholesaler with roots established in lighting and decor since 2015.
Anyone who needs quality lighting, greenery and decor in large volumes at great pricing has a friend in Grouponi.